Monday, January 25th - Morning Session
After a beautiful time of worship, we gave it all to God trusting He will make something beautiful out of our lives. We asked Him to purify our hearts, and Rob gave opportunity to share what God was putting on our hearts.

Pastor Matt Axtell shared how this week a young man got his hands covered in tree sap and was somewhat paralyzed, not being able to touch anything without getting stuck. Olive oil, a known remedy, was poured over his hands and they were completely cleansed. Such a picture of what the oil of the Holy Spirit wants to do in us – cleanse us from all that has us stuck.

Joseph McKenna prayed Phillipians 2:2-4 over us. "Fulfill my joy by being likeminded, having the same love, being of one accord, of one mind. Let nothing be done through selfish ambition or conceit, but in lowliness of mind let each esteem others better than himself. Let each of you look out not only for his own interests but also for the interests of others."

Before we broke up into prayer groups, a powerful vision was shared: a large beveled, expensive, mirror being shattered by a hammer. After prayer last night, the woman who had the vision shared further insight. She shared that we need to go after all the little shards in our lives because the big pieces are being put back together.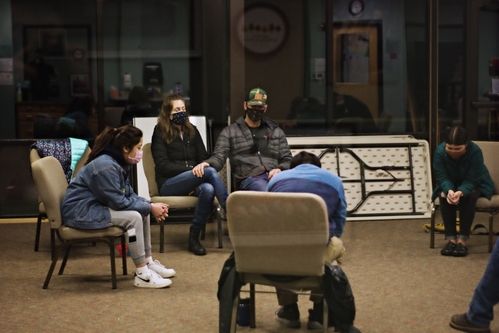 The Zoom prayer meeting prayed into this vision. We started by praying for Freya Lusic, our children's ministry director, as she starts preparing to reopen Children's Ministry. This is one of the larger pieces of the mirror being restored. As the mirror is being put back together it will be like a mosaic, others who were never a part of the original can be grafted in. As the pieces are glued back together there will be different angles reflecting the Light in new directions. The back of the mirror was black. We pray that God would turn those shattered pieces that are facedown in defeat and hopelessness over that they might shine for Him.

We pray asking, where have we become comfortable with the image we see in the mirror? Where does God want to shatter us that He may replace that image with the image of Him?

Pastor Rob closed the morning sharing how Rachel in Genesis had stolen her father's idols. She was a barren idol worshiper. Yet when she prayer, God heard her prayer. He gave her Joseph and even Benjamin, who was the first King of Israel, whose lineage the Apostle Paul came from.

BIG THINGS HAPPEN WHEN PEOPLE PRAY!!!